address




architects




collaboration




project




realization

Partizánska 27, Bratislava




Dušan Jurkovič, Jindřich Merganc




Otmar Klimeš




1928




1929 – 1930
The small sanatorium in a villa district above Bratislava is one of the very latest works of Dušan Jurkovič; its cultivated Functionalist conception is very likely the result of equal participation by his partner Merganc. Originally, the building was a women's sanatorium founded by Professor Koch; with four floors, it had at the time 36 beds, an operating theatre, consulting room and a small chapel; now it is used as a maternity ward. On a plan shaped like an extended letter V, it fits harmonically into the surroundings. Behind the building is a garden with a rich collection of various tree species, designed and planted by gardener Jozef Mišík. Of concrete skeletal construction, the building has brick infill covered with ceramic tiles with a stressed horizontal joint.
In the layout, the building has three sections with a central corridor; the rear rooms have balconies facing the garden. Its most impressive feature is the sophisticated Functionalist formal vocabulary: the simple facade with large windows and a single ribbon window at the centre; the traditionalist ceramic tiles and symmetrical design give the building added dignity. At the time of completion, the sanatorium was regarded as the most modern in all of Czechoslovakia. 
Literature:
Desaťročie UBS 1922 – 1932. Bratislava 1932. p. 13.
WEINWURM, Fridrich: Kochovo sanatorium v Bratislavě. Měsíc 2, 1933, 4, p. 9.
KUSÝ, Martin: Architektúra na Slovensku 1918 – 1945. Bratislava, Pallas 1971. 186 p.
BOŘUTOVÁ-DEBNÁROVÁ, Dana: Dušan Samo Jurkovič. Bratislava, Pallas 1993. 252 p., p. 196 – 202.
FOLTYN, Ladislav: Slovenská architektúra a česká avantgarda 1918 - 1939. Bratislava, SAS 1993. 238 p.
DULLA, Matúš: Kochovo sanatórium. Architektúra & urbanizmus 29, 1995, 1 – 2, p. 64 – 69.
DULLA, Matúš – MORAVČÍKOVÁ, Henrieta: Architektúra Slovenska v 20. storočí. Bratislava, Slovart 2002. 512 p., p. 134, 353.

Source of pictures:
Department of Architecture Archive, ÚSTARCH SAV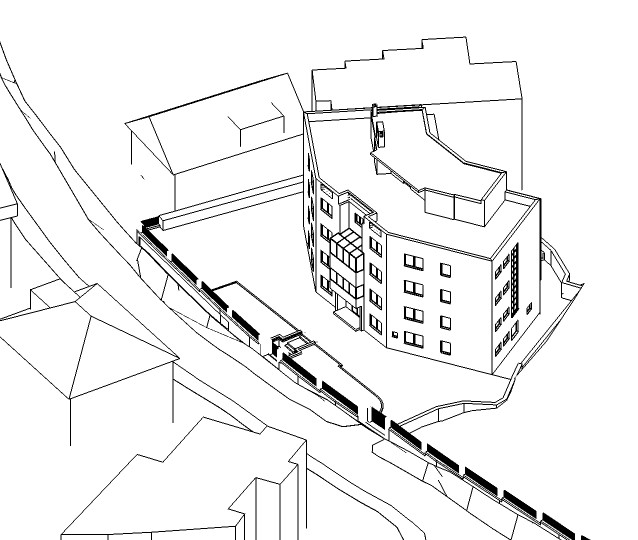 This model was made possible through the financial support of the agency KEGA (modely): 003STU-4/2016