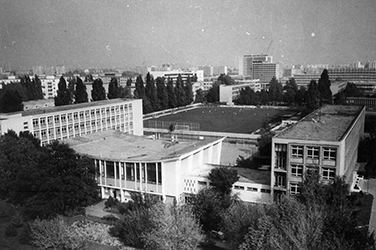 current name
address
architects

project

realization

Business and services high school
Sklenárova ulica, Bratislava
Štefánia Krumlová, Ľudovít Jendreják

1957 - 1958

1960 - 1962
The complex of school buildings in the Ružová dolina residential complex was realized as a re-project of the school complex on Metodova Street. Architects also designed the surroundings of the school. The children's jungle gym was designed in collaboration with Václav Kautman. The project of school was awarded the third prize at the national presentation of architectural works for the years 1962-63.

Literature: 
MORAVČIKOVÁ, Henrieta: Neviditeľné architektky. Architektúra & urbanizmus, 2015, 1 - 2, s. 82 - 103.  
EHRENBERGER, Imrich: Služba architektúre - služba ľuďom. Projekt 224, 1989, 2, s. 34 -36 
Photo: 
Archive of Štefánia Krumlová