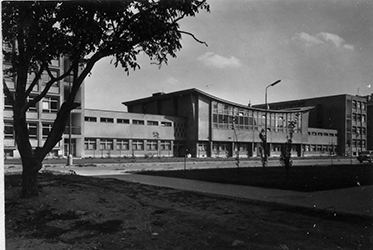 current name


address




architects




realization

Metodova high school
Metodova ulica, Bratislava
Štefánia Krumlová, Ľudovít Jendreják


1961
After the first projects of residential buildings with children's crèche and kindergartens at Páričková and Malinovského (now Šancová), Štefánia Krumlová, in cooperation with Ľudovít Jendreják, proposed an atypical 48-class double-school with a gymnasium and sports pavilion for the Záhradnícka mass housing. The attractiveness of the spatial solution and layout arrangement was complemented by a distinctive gray-red color and an ambitious rope roof structure covering the gym (ing. Jozef Poštulka). The extraordinary architectural quality of the project caused it to be built in a slightly modified form in the nearby housing of Ružová dolina.
Literature: 
MORAVČIKOVÁ, Henrieta: Neviditeľné architektky. Architektúra & urbanizmus, 2015, 1 - 2, s. 82 - 103.  
EHRENBERGER, Imrich: Služba architektúre - služba ľuďom. Projekt 224, 1989, 2, s. 34 -36
Photo: 
Archive of Štefánia Krumlová