address
architects
interior
project
realization

Novosvetská 8, Bratislava




Fridrich Weinwurm, Ignác Vécsei




Ernst Schwadron




1935




1936
"For its clear layout and exemplary use of the terrain, the villa is a model worth following for the family residence of the more prosperous layer of society" – such was the review of the villa in the journal Slovenský staviteľ. The Pfeffer villa is a unique instance of a luxurious single-family dwelling kept to a single living floor. The main entrance and residential floor was divided into three individually accessible parts – residential, service and private, the latter containing the family bedrooms. The individual functional parts of the residential section are divided only by sliding partitions or indications of walls, thus forming together a single fluid whole. The large horizontal windows, winter garden and the terraces on the ground floor and the roof all opened to the garden; the street facade, by contrast, reduced to a single level, displayed a minimum of openings, appearing enclosed and even unwelcoming. The Purist impression of the facade was reinforced by the smooth stucco and the wire mesh railing of the rooftop terrace. At the request of the owner, the interior of the villa was designed by the Viennese architect Ernst Schwadron. The villa is one of the most capacious realisations of a modern dwelling in Slovakia. 
Literature:
Rodinný dom v Bratislave. Slovenský staviteľ 7, 1937, p. 134 – 136.
Ein Haus in Bratislava. Forum 7, 1937, p. 6 – 12.
Fridrich Weinwurm – architekt NOVEJ DOBY. Katalóg výstavy. Ed. Š. Šlachta. Bratislava, SAS 1993, p. 59.
Dulla, Matúš – Moravčíková, Henrieta: Architektúra Slovenska v 20. storočí. Bratislava, Slovart 2002, 512 p., p. 97, 98, 106, 388.

Foto:
Matúš Dulla, Slovenský Staviteľ, 1936
Ground plan:
Department of Architecture Archive, ÚSTARCH SAV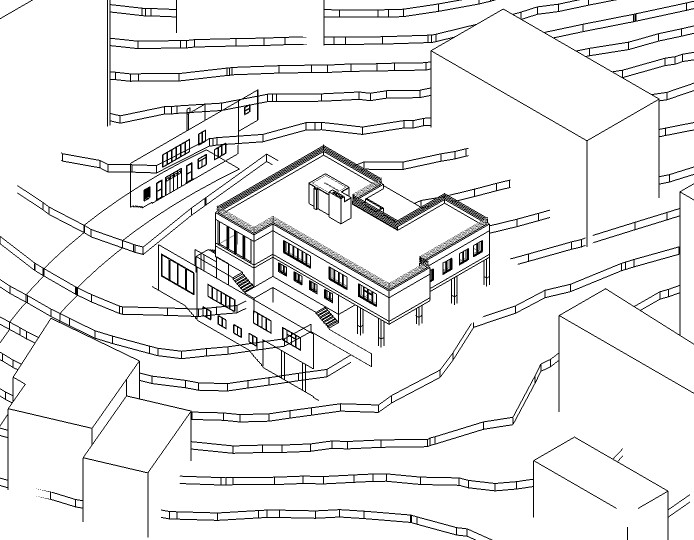 This model was made possible through the financial support of the agency KEGA (modely): 003STU-4/2016